The Paddock
Meadow Drive, Muswell Hill, London, N10 1PL
Meadow Drive, Muswell Hill, London, N10 1PL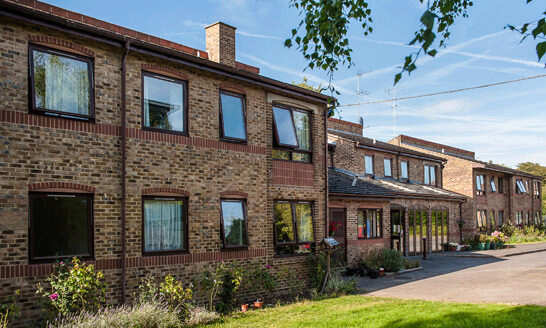 Click to enlarge or scroll
Info
Aims
Buildings
Services
Residents
Management / Costs

Manager's Description
"Opened in April 1987 and the youngest of the buildings on the nine acres of parkland estate, The Paddock is situated opposite MHA's care home, The Meadow and adjacent to a tennis club. "We are one b..." Show more
"Opened in April 1987 and the youngest of the buildings on the nine acres of parkland estate, The Paddock is situated opposite MHA's care home, The Meadow and adjacent to a tennis club. "We are one big happy family here," writes one tenant. "We play darts, skittles, bowls, quoits, bingo, bagatelle, Jenga and scrabble on weekdays from 3 to 5pm. On Saturdays in the lounge we have films on our huge plasma TV. A hairdresser comes every Thursday and a chiropodist comes here about every four to five weeks.

While tenants are encouraged to live as independently as possible (some with the assistance of a carer or a cleaner) a supportive interest is always there from the Scheme manager. As well as giving a morning call to each resident to check that they are OK, the manager's ability to deal with medical emergencies, plumbing crises and the small print on tricky forms is immensely appreciated. Residents now speak of a "home from home" and a place where they have benefited from "letting go of responsibilities and finding contentment."" Show less
Main Facts
Enhanced sheltered housing / Close care housing
31 flats. Built in 1987. Sizes 1 bedroom. Includes mobility standard properties.
Housing With Care scheme with 24 hours / 7 days), Resident management staff and Careline alarm service
Lift, Lounge, Dining room, Laundry, Garden, Conservatory, Hobby room, Hairdressing salon, Assisted bathing facility
Access to site fairly easy. Distances: bus stop 0.3 mile(s); shop 0.5 mile(s); post office 0.2 mile(s); town centre 2.4 mile(s); GP 0.4 mile(s).
Regular social activities include: Coffee mornings, quizes, tai chi class and dominoes, organised by residents and staff. New residents accepted from 60 years of age. Both cats & dogs generally accepted, but not to be replaced (Pet passports are completed with the residents).
Tenure(s): Rent (social landlord) and Leasehold
Cost: Asking prices from around £285,000 (1 bed), at Nov 2020. Rents from £99.92 exclusive per week (at 05/11/2020).
Care provider: Methodist Homes

Ethos / Lifestyle
Community interaction
The scheme is located within an existing active community
The scheme is within easy reach of an existing active community
The scheme relies on itself for community /neighbourhood interaction
Cultural
We facilitate spiritual and religious observance
Staff can speak languages other than English
Social Activities
There are regular social activities
Including: Coffee mornings, quizes, tai chi class and dominoes
Entertainment
Outings
Regular activities programme

Daily activities
Weekly activities
Monthly activities

Facilities for residents to garden or assist with gardening
Own minibus
Other transport for residents
Pets
New residents are allowed to bring pets:
a cat
a dog
If yes, pets can be replaced
Pet passports are completed with the residents
Statement of purpose
(the ethos and purpose of the scheme as described to a potential resident)
We put people at the heart of everything we do, treating people as individuals, respecting and honouring their wishes and providing care and wellbeing services in a way that's best suited to each person's specific needs, enabling them to live later life well. We place great importance on nurturing the mind, body and spirit of those we care for, their families and our colleagues regardless of faith, background or belief.
Assessment of outcomes
(to help assess the quality of service and the well-being of residents)
- Regular comprehensive survey of all residents, results, action plans agreed, and reviewed with residents. - Individual meetings with residents to agree their wellbeing or care outcomes which are reviewed 6 monthly. - CQC inspection and report. - Quality Assurance inspection and report. - Area Manager audit. - Capita Health and Safety audits. - ARCO registered. - Local Authority Food and Hygiene rating. All staff receive comprehensive induction. They Undertake core training to include safeguarding, fire safety, health & safety, infection control, emergency first aid, confidentiality and the management of information – all are refreshed on an annual basis.

Buildings
The buildings and the environment
Year built: 1987
Number of stories: 2
Lift(s). Number of Lifts: 1
Stair lift(s)
The location is generally regarded as:

Desirable
Average
Not so desirable
Distances to external facilities:
Bus stop
0.3
mile
Local shop
0.5
mile
Post office
0.2
mile
GP surgery
0.4
mile
Town/shop centre
2.4
miles
Individual properties
31 properties
Property details:
1-bedroom apartments:
31
Including:
extra care or housing with care properties:
31
limited mobility properties:
31
Other details:
If there are studios/bedsits

They have a kitchen
They have a wc
They have a bathroom

Some properties have a private balcony
Some properties have a private garden or patio
Properties are served by a communal satellite tv aerial
Properties are wired for cable tv
Dementia unit
Intermediate care suite or similar
Respite care accommodation
Communal facilities Indoors
Lounge
Restaurant (open to public)
Dining room (residents only)
Community/day centre
Laundry
Guest suite
Conservatory
Activities room(s)
Hobby room(s)
More than one lounge
TV lounge
Café
Bar/pub
Fitness gym
Arts and craft centre
Storage for wheelchairs/electric scooters
Library
Shop
Treatment room
Computer/IT room
Payphone
WC's
Hairdressing salon
Jacuzzi
Pool
Assisted bathroom(s)
Other communal facilities
Communal facilities Outdoors
Garden
Total number of parking spaces: 11
Technology and design
Communal facilities are designed for sensory impairment
Wired for telecare
Telecare installed
Smart Home
CCTV
Others
Facility security features: Fob entry to main door
Accessibility
All communal spaces are accessible by wheelchair users
Most residents find getting to the site:

easy
manageable
difficult

Less mobile people find getting to the site:

easy
manageable
difficult

Services
Support services
Community alarm service
Provided by: Astraline
Alarm to call on-site staff
Housing support service (SP tasks)
Domestic assistance
Light domestic cleaning
Shopping
Housework
Personal laundry service
Hairdressing on site
Chiropody
Physiotherapy
Sensors (detectors) and monitors
Personal sensors
Property-based sensors
Meals
Meals are available on a regular basis
A daily meal is available
Details: lunch only
Breakfast always available in restaurant/dining room
Lunch always available in restaurant/dining room
Dinner always available in restaurant/dining room
Breakfast can be delivered to individual homes
Lunch can be delivered to individual homes
Dinner can be delivered to individual homes
Restaurant is open to outsiders
There is generally a choice of menu
Residents are consulted on menus
All meals are prepared on the scheme
Vegetarians are specifically catered for
Special diets can usually be provided for
We can meet cultural dietary preferences
Care services
Personal care services
Dementia care
Care for people with learning disabilities
Nursing care
Intermediate care
Respite care
Mental frailty
Physical disabilities
Behavioural problems
Terminal illness
Our scheme is best suited to care for:
People who need minimal help
People who need moderate help
People who need a high level of help

Eligibility / Admission
User profile
60 is the lower age limits for new residents
We cater for people with no/low level care needs
We are aiming at a mixed care levels population
Admission criteria are similar to residential care
Residents will not need to move except to hospital
The scheme is intended or specially suited to a specific religious, ethnic, profession or other group
The scheme is restricted to a specific group
Applicants must:
Be self-funders
Be on state benefits
Have local connections
Have a housing needs assessment
Have a community care assessment
Have a risk assessment
Have a health assessment
Have minimum housing support need
Have minimum personal care need
Have less than a maximum personal care need
For couples, both partners must:
Have minimum housing support need
Have minimum personal care need
We accept people with:
Visual impairment
Deafness
Urinary incontinence
Faecal incontinence
We would normally accept people with:
Memory problems - moderate
Memory problems - severe
Challenging behaviour - disruptive
Challenging behaviour - physically violent
Mobility problems - frame
Mobility problems - wheelchair
Mobility problems - bedfast
Wandering problems - inside home
Wandering problems - outside home

Management / costs
Management
Compared to our other schemes, this one is:

Popular
Average
Not so popular
Slow to let/sell

There is a tenants/residents association
Housing staff
Resident scheme manager
Non-resident manager
Housing staff on duty:

part time
normal hours
24 hours
7 days
Care staff
Site-based care staff
On-site care staff 24/7
Staff facilities
Manager's office
Care staff office
Staff overnight room with en-suite
Staff rest room with kitchenette
Staff locker and changing room
Main catering kitchen
Costs
Average new let rents excluding all charges:
1 bedroom
£99.92
per week
Sale/resale prices start from around:
1 bedroom
£285,000
Rents updated: 05/11/2020
Prices updated: 05/11/2020