Fernley Grange
Fleetwood Road, Southport, Merseyside, PR9 9FY
Fleetwood Road, Southport, Merseyside, PR9 9FY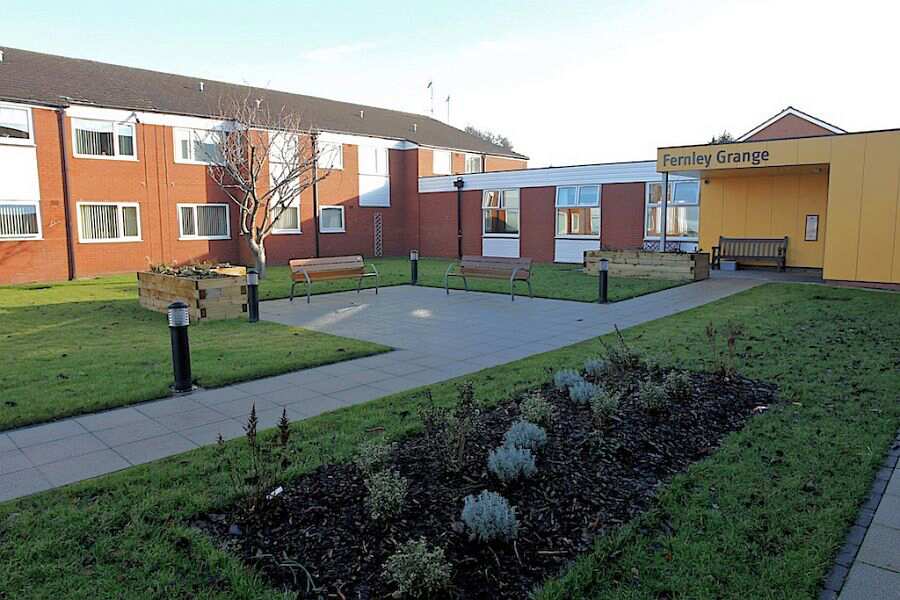 Click to enlarge or scroll
Manager's Description
"Fernley Grange built in 1979 is a sheltered housing property comprising 30 one bedroom flats, all of which are centrally heated and consist of hall, lounge, kitchen, bathroom and bedroom. The availabl..." Show more
"Fernley Grange built in 1979 is a sheltered housing property comprising 30 one bedroom flats, all of which are centrally heated and consist of hall, lounge, kitchen, bathroom and bedroom. The available communal facilities consist of a shower and hairdressing room, launderette with washer and drier, an external drying area, and large gardens.
There is a large communal lounge for the use of all residents, and a residents committee organise trips out, bingo, tea & toast mornings, and entertainment. A guest toom is available which, with prior arrangement, can be used by friends and relatives who wish to visit.
Fernley Grange is situated in the Marshside area of Southport, a short bus ride away from the town centre. A bus route into town stops outside Fernley Grange. In the area there are various amenities including doctors, chemists, dentist, and a variety of local shops and supermarkets.
Fleetwood Road estate, also built in 1979, consists of 49 one bedroom sheltered properties made up of 3 blocks containing 8 flats and 25 bungalows. All these residents are welcome to use the communal room at Fernley Grange, a short distance away." Show less
Main Facts
Retirement housing
30 flats. Built in 1979 and renovated in 2009. Sizes 1 bedroom.
Visiting management staff, Non-resident management staff and Careline alarm service
Lift, Lounge, Laundry, Guest facilities, Garden, Hairdressing salon
Access to site easy, but less so for less mobile people. Distances: bus stop 10 yards; shop 0.25 mile(s); post office 0.25 mile(s); town centre 2 mile(s); GP 0.25 mile(s); social centre 0.25 mile(s).
Regular Social Activities include: coffee mornings, organised by Scheme Manager. New residents accepted from 60 years of age.
Tenure(s): Rent (social landlord)
Comments made in nominations for the EAC National Housing for Older People Awards

"there is such a community feel in the scheme with all the residents coming together as one big family. there are lots of events for all the community ..." Show more

"there is such a community feel in the scheme with all the residents coming together as one big family. there are lots of events for all the community and the building is a local hub for residents" Show less

Made by a staff member in 2019

"It has a great atmosphere, very warming when visiting and activities"
Made by a visitor in 2019


"This scheme has been beautifully refurbished and the residents engage in a number of activities - it has a great sense of community and is full of lif..." Show more

"This scheme has been beautifully refurbished and the residents engage in a number of activities - it has a great sense of community and is full of life ! " Show less

Made by a visitor in 2019

"I have lived here for 2 years and have found the staff very understanding, approachable and caring. I have high regards for each of them."
Made by a resident in 2019


"It is vibrant and lively; life enhancing to visit!"
Made by a in 2019


"Because despite the age profile (high) and frailty level (high) the customers are a lively and interested/interesting bunch of people with an appetite..." Show more

"Because despite the age profile (high) and frailty level (high) the customers are a lively and interested/interesting bunch of people with an appetite for life. The Scheme Manager is a lively 78 year old and has more vitality than the average teen!" Show less

Made by a in 2019

"I love the friendly staff, especially Cathy Crook, who keeps us up to date with everything that goes on here. The people who live here are very frien..." Show more

"I love the friendly staff, especially Cathy Crook, who keeps us up to date with everything that goes on here. The people who live here are very friendly and made us most welcome when we first moved in here." Show less

Made by a resident in 2019

"wonderful service provision to all residetnts in the block and surrounding area"
Made by a staff member in 2019


"When I visited i found it a pleasant friendly place, with people that smile, and happy to see you, food outstanding at times."
Made by a visitor in 2017


"Residents seem very happy there"
Made by a visitor in 2017


"Residents and staff are fabulous!"
Made by a staff member in 2017


"Good friendly atmosphere and well kept and cean"
Made by a visitor in 2017


"Lovely location and nice grounds and flats"
Made by a staff member in 2017


"It's a nice friendly place people are caring happy and polite."
Made by a visitor in 2017


"Friendly staff and residents lovely place"
Made by a volunteer in 2017


"At Sefton OPERA we regularly are asked to provide activities for the residents including exercise, complementary therapies and music we think the sche..." Show more

"At Sefton OPERA we regularly are asked to provide activities for the residents including exercise, complementary therapies and music we think the scheme really tries to improve the quality of life of its older residents and the staff are fantastic to work with and are very welcoming" Show less

Made by a volunteer in 2017

"Fernley is run for the people by the people people are asked what they want and this is developed providing a range of activities and services"
Made by a volunteer in 2017


"A very good residential home with a great manager."
Made by a staff member in 2017


"The staff is very friendly; there is always something on for residents."
Made by a visitor in 2017


"Lovely settings, friendly and helpful staff and there is always something for the residents to do."
Made by a visitor in 2017


"Great place. We worked there doing computer training and we had a great time."
Made by a visitor in 2017


"The scheme manager is inspirational, she makes it home from home. They have fun activities all year and have recently won a national gardening competi..." Show more

"The scheme manager is inspirational, she makes it home from home. They have fun activities all year and have recently won a national gardening competition. Its a family atmosphere where everyone is welcome." Show less

Made by a staff member in 2017

"Accommodation is good warm and comfortable; repairs are prompt the staff are helpful and considerate. We take pride in our gardens having won 1st priz..." Show more

"Accommodation is good warm and comfortable; repairs are prompt the staff are helpful and considerate. We take pride in our gardens having won 1st prize in the 2016 competition for the best Sheltered Housing garden in the Merseyside area. Age range is from 60 to 95 with no barriers." Show less

Made by a staff member in 2017

"There is a welcoming feel to the scheme when you come in, everybody is made welcome. There are lots of things going on and the residents truly care fo..." Show more

"There is a welcoming feel to the scheme when you come in, everybody is made welcome. There are lots of things going on and the residents truly care for each other. Our computer training classes welcome the outside community into the building and they enjoy all the facilities available." Show less

Made by a staff member in 2017

"Fernley Grange is a bright welcoming scheme. The Officer is very passionate about introducing social activities to give residents the chance to meet w..." Show more

"Fernley Grange is a bright welcoming scheme. The Officer is very passionate about introducing social activities to give residents the chance to meet with their neighbours and enjoy their home. Over the last twelve months, residents have benefitted from IT classes, barbecues, coffee mornings and a gardening award." Show less

Made by a staff member in 2017

"Following the most recent refurbishment the layout and decor is exceptional. The staff and atmosphere on the scheme are second to none. It is always k..." Show more

"Following the most recent refurbishment the layout and decor is exceptional. The staff and atmosphere on the scheme are second to none. It is always kept clean and tidy and residents are happy and secure in the surroundings" Show less

Made by a visitor in 2017

"A fantastic award-winning garden and lots for the residents to get involved in including IT projects"
Made by a staff member in 2017


"The staff who work there are so friendly & helpful, all the residents are friendly and have great lunches, coffee mornings and gatherings together."
Made by a visitor in 2017


"It is a warmed and friendly place, that helps new residents settle in quickly"
Made by a visitor in 2017


"nice scheme "
Made by a visitor in 2017


"good place to live"
Made by a visitor in 2017


"great atmosphere"
Made by a visitor in 2017


"lovely place "
Made by a visitor in 2017


"fantastic friendly atmosphere, lovely location great residents "
Made by a staff member in 2017


"Because it is well run and has a friendly environment . it has lovely gardens and outdoor sitting area. It is well situated for public transport and s..." Show more

"Because it is well run and has a friendly environment . it has lovely gardens and outdoor sitting area. It is well situated for public transport and shops." Show less

Made by a resident in 2017

"Whether it's the award winning gardens or the indoor pursuits (including adult -tutored IT sessions), there's never a dull moment!"
Made by a staff member in 2017