Leadon Bank
Orchard Lane, Ledbury, Herefordshire, HR8 1BY
Orchard Lane, Ledbury, Herefordshire, HR8 1BY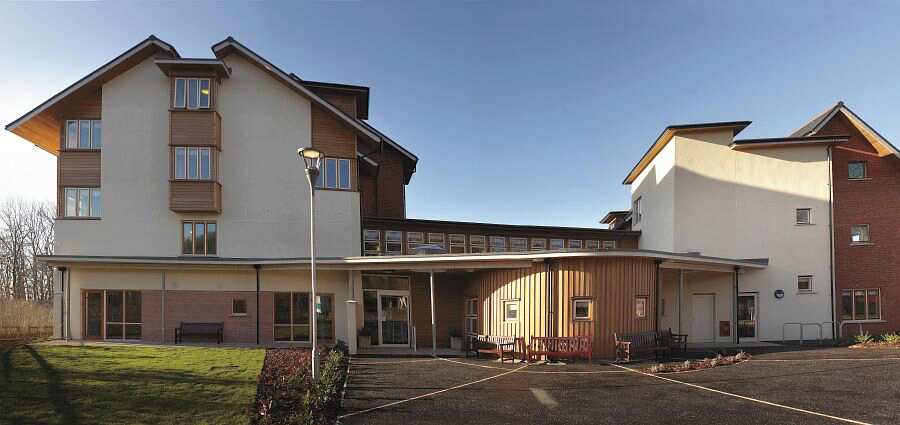 Click to enlarge or scroll
Manager's Description
"Shaw extra care schemes offer the next generation of retirement housing as a real alternative to and a step-up from, traditional sheltered housing schemes which do not provide personal support and car..." Show more
"Shaw extra care schemes offer the next generation of retirement housing as a real alternative to and a step-up from, traditional sheltered housing schemes which do not provide personal support and care. If you think all new extra care developments are the same then you're in for a few pleasant surprises." Show less
Main Facts
Extra care housing
53 flats. Built in 2007. Sizes 1 bedroom, 2 bedroom.
Extra Care scheme with on-site care staff (24 hours / 7 days), Non-resident management staff (24 hours, 7 days) and Careline alarm service
Lift, Lounge, Dining room, Restaurant open to the public, Laundry, Guest facilities, Garden, Community centre, Hobby room, Cafe, Hairdressing salon, Library, Assisted bathing facility, terrace
Whole site accessible by wheelchair. Access to site easy. Distances: bus stop 300 yards; shop 300 yards; post office 0.5 mile(s); town centre 0.5 mile(s); GP 0.5 mile(s).
Regular social activities include: daily activities are provided and may be linked into services offered to day care attendees, organised by Activity Co-ordinator. Meal(s) available (on-site restaurant & hotel services). New residents accepted from 55 years of age. Dogs only generally accepted, but not to be replaced.
Tenure(s): Leasehold
Care provider: Shaw Community Services
Comments made in nominations for the EAC National Housing for Older People Awards

"1st class atmosphere. Help always available. Food very good. Staff helpful. Good entertainment. No complaints."
Made by a resident in 2017


"Delightful buildings and garden surrounds. Excellent restaurant. Secure, warm & cosy. Very helpful staff. Plus a variety of entertainment."
Made by a resident in 2017


"The staff are so kind and helpful, no matter what situation you find yourself in. They are always there to hep you."
Made by a resident in 2017


"Staff always helpful and kind. Good social atmosphere. Reassuring that help is available 24/7. Activities organised regularly which are appreciated gr..." Show more

"Staff always helpful and kind. Good social atmosphere. Reassuring that help is available 24/7. Activities organised regularly which are appreciated greatly." Show less

Made by a resident in 2017

"I like living here because everyone is very friendly. I also feel very safe here."
Made by a resident in 2017


"Plenty of events to join in. Always someone to help you with repairs and maintenance. Staff very friendly. Good restaurant. Lovely gardens. Near to bu..." Show more

"Plenty of events to join in. Always someone to help you with repairs and maintenance. Staff very friendly. Good restaurant. Lovely gardens. Near to buses and supermarket." Show less

Made by a resident in 2017

"I am comfortable here & everybody is very nice. I enjoy the activities. Leadon Bank provides the services that I need, e.g hairdresser, domestic & lau..." Show more

"I am comfortable here & everybody is very nice. I enjoy the activities. Leadon Bank provides the services that I need, e.g hairdresser, domestic & laundry services. My family can visit regularly & join in the activities." Show less

Made by a resident in 2017

"I like where I live because I like having my own home, the view from my flat. I receive care from staff who are very good. I am supported to be as ind..." Show more

"I like where I live because I like having my own home, the view from my flat. I receive care from staff who are very good. I am supported to be as independent as possible. Staff respect. I like my own company." Show less

Made by a resident in 2017

"I like having my own home & being able to continue living in the town where I was brought up as a child. I am able to receive care & support from all ..." Show more

"I like having my own home & being able to continue living in the town where I was brought up as a child. I am able to receive care & support from all the staff who are marvelous. You couldn't find better." Show less

Made by a resident in 2017

"Staff are very helpful & courteous all the time. It's a very nice place to live."
Made by a resident in 2017


"I have been living here for a few years now.I like staff who look after us. They are gentle and caring. I like atmosphere at Orchard Place. I get on w..." Show more

"I have been living here for a few years now.I like staff who look after us. They are gentle and caring. I like atmosphere at Orchard Place. I get on well with most people living and working here. I join the entertainment (plays, etc)" Show less

Made by a resident in 2017

"It's a very pleasant & friendly place. Very central for shops etc. Lovely grounds for sitting in during summer months."
Made by a resident in 2017


"Nice people, nice food and very comfortable."
Made by a resident in 2017


"All round happy with everything. I was a carer for 20 years, so I thank the staff for all the hard work."
Made by a resident in 2017


"I like everything! It's perfect here for me. I wouldn't like to go anywhere else. Good company and lots of cups of tea."
Made by a resident in 2017


"They help me with everything. I can't remember much, but they help me a lot."
Made by a resident in 2017


"Everyone is the same to everyone, treating us equally, always obliging."
Made by a resident in 2017


"It is a very nice place to live. It is peaceful and lovely. I have nothing bad to say about it at all, and staff are all very nice."
Made by a resident in 2017


"I like it because I have a nice view and my mother is next door. the carers are all good and do my shopping and check on me through the day."
Made by a resident in 2017


"I am nearly 94 - my only daughter died, so I am a widow and no family left. I came here in May 2015, in my own flat. I have security and can call help..." Show more

"I am nearly 94 - my only daughter died, so I am a widow and no family left. I came here in May 2015, in my own flat. I have security and can call help whenever I need it. Excellent." Show less

Made by a resident in 2017

"Security, help if needed, restaurant."
Made by a resident in 2017


"Good location. Relatively near shops; good bus service. Pleasant gardens and outdoor space. Someone on duty at all times. Large flats, pleasant staff...." Show more

"Good location. Relatively near shops; good bus service. Pleasant gardens and outdoor space. Someone on duty at all times. Large flats, pleasant staff. Public areas clean & sweet smelling. Plenty of activities if one wants them. Excellent restaurant and food / hairdresser. Also reasonably priced and first class. " Show less

Made by a resident in 2017
National Housing for Older People Awards