Charles Clark House
2 Apsley Road, Southsea, Hampshire, PO4 8PL
2 Apsley Road, Southsea, Hampshire, PO4 8PL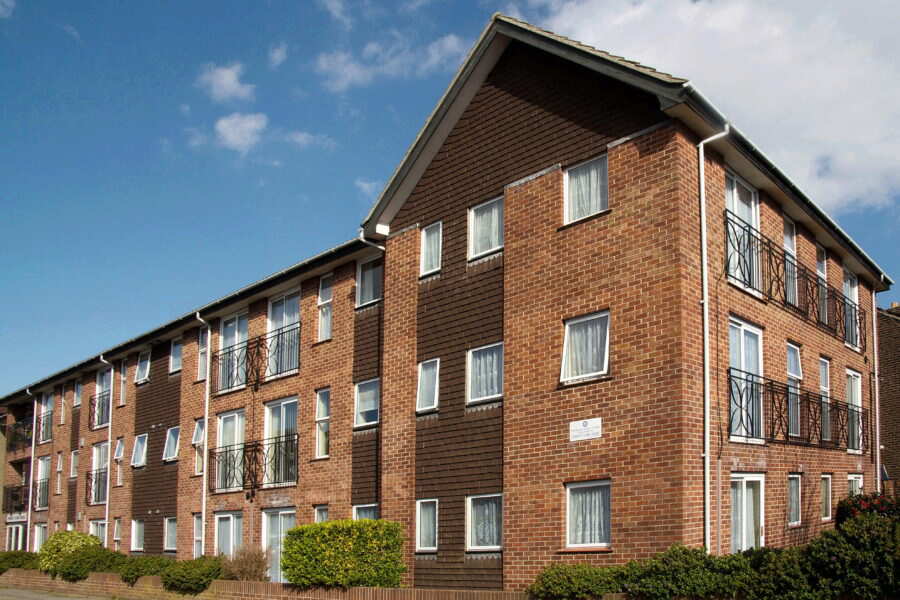 Click to enlarge or scroll
Main Facts
Retirement housing
32 flats. Built in 1983 and renovated in 2010. Sizes studio, 1 bedroom.
Visiting management staff, Non-resident management staff (part time) and Careline alarm service
Lift, Lounge, Laundry, Guest facilities, Garden
Access to site easy, but less so for less mobile people. Distances: bus stop 50 yards; shop 100 yards; post office 2 mile(s); town centre 2 mile(s); GP 100 yards; social centre 0.75 mile(s).
Scheme for, or of particular interest to: people who are fully retired. Regular Social Activities include: coffee mornings, fish & chip lunches, occasional trips. New residents accepted from 60 years of age.
Tenure(s): Rent (social landlord)
Comments made in nominations for the EAC National Housing for Older People Awards

"I am very happy living here. The Rotary looks after us well and the House Manager looks after us very well too. She does a sterling job."
Made by a resident in 2019


"It's always a pleasure to visit Charles Clark house. My Nan who is a resident here is very happy with the facilities and activities such as regular c..." Show more

"It's always a pleasure to visit Charles Clark house. My Nan who is a resident here is very happy with the facilities and activities such as regular coffee morning Inc special occasions for birthdays and other celebrations. " Show less

Made by a visitor in 2019

"Having attended several social events at this establishment, the residents say how much the live living there and there is lots to do"
Made by a visitor in 2019


"Everyone feels like family. Fantastic events throughout the week. Always something to do. Lovely new garden. Great facilities. The most friendly place..." Show more

"Everyone feels like family. Fantastic events throughout the week. Always something to do. Lovely new garden. Great facilities. The most friendly place I like to visit " Show less

Made by a visitor in 2019

"its welcoming and homely, very warm and has great company and social spaces for the residents to get together. "
Made by a visitor in 2019


"Everyone I visit at Charles Clark House speaks very highly of the flats, in terms of comfort, location and especially the in-house manager. The reside..." Show more

"Everyone I visit at Charles Clark House speaks very highly of the flats, in terms of comfort, location and especially the in-house manager. The residents have a good social life, there is always something going on " Show less

Made by a visitor in 2019

"All residents and visitors are made welcome.
There are many social events throughout the year.
Always a happy atmosphere.
The manager Sam Taylor alwsy..." Show more

"All residents and visitors are made welcome.
There are many social events throughout the year.
Always a happy atmosphere.
The manager Sam Taylor alwsys puts in 100% with all events." Show less

Made by a visitor in 2019

"Friendly atmosphere, welcoming, love the staff, nothing to much trouble, they make a real effort with the residence."
Made by a visitor in 2019


"Lovely manager and family. Spend a lot of time interacting, and putting on lots of activities for the residents to enjoy."
Made by a visitor in 2019


"I find Mrs Taylor very friendly and helpful "
Made by a visitor in 2019


"It's brilliant at organising social events for the residents that keeps them less isolated and builds morel and mood. It's clean and tidy and has ..." Show more

"It's brilliant at organising social events for the residents that keeps them less isolated and builds morel and mood. It's clean and tidy and has a great atmosphere." Show less

Made by a visitor in 2019

"Comfortable and Friendly Environment, Secure, Well Managed"
Made by a volunteer in 2019


"Because it's absolutely brilliant ."
Made by a visitor in 2019


"Amazing management, well looked after residents"
Made by a visitor in 2019


"Whenever I have been the residents have been well looked after with a close community spirit. "
Made by a visitor in 2019


"It's a happy fun place for the residents "
Made by a visitor in 2019


"Fantastic place very friendly and welcoming."
Made by a visitor in 2019


"Whenever I go and visit it is always such a friendly atmosphere and they do so much with the community! I used to work at a nursery and we took all of..." Show more

"Whenever I go and visit it is always such a friendly atmosphere and they do so much with the community! I used to work at a nursery and we took all of the pre school children to visit and share a coffee morning with all the residence! Fabulous place!" Show less

Made by a visitor in 2019

"Recently I met all at CCH to present them with a cheque for there garden, the residents are well though of from the manager, its like a little family ..." Show more

"Recently I met all at CCH to present them with a cheque for there garden, the residents are well though of from the manager, its like a little family in there. " Show less

Made by a visitor in 2019

"I love how it's one big family and they love to put on different events for the residents "
Made by a visitor in 2019


"Enthusiastic workers, fun things to do, residents get taken out warm environment "
Made by a visitor in 2019


"the house has a wonderful community feel. the staff really look out for the residents and arrange activities and events to enhance their quality of li..." Show more

"the house has a wonderful community feel. the staff really look out for the residents and arrange activities and events to enhance their quality of life greatly. " Show less

Made by a visitor in 2019

"Clean warm friendly manager lots of activities all through the year"
Made by a visitor in 2019


"Residents are so well catered for and happy and visitors are made to feel so welcome."
Made by a visitor in 2019


"The staff are always happy and helpful. It's a nice atmosphere. "
Made by a visitor in 2019


"It's a friendly home with a family like atmosphere! Everyone is made to feel welcome and I love every minute here"
Made by a resident in 2019


"Samantha does so much for everyone that lives here and offers people so much love and care! Amazing place!"
Made by a visitor in 2019


"Exceptional house. Happy friendly well organised "
Made by a visitor in 2019


"Such friendly atmosphere as you walk in the main door. Very well managed and residents are well looked after with all the support available for them. ..." Show more

"Such friendly atmosphere as you walk in the main door. Very well managed and residents are well looked after with all the support available for them. A lovely and safe place to have ones home." Show less

Made by a visitor in 2019

"Well run, beautifully maintained by amazing family! Warm, friendly and welcoming environment with an amazing host of activities and fundraising! Well ..." Show more

"Well run, beautifully maintained by amazing family! Warm, friendly and welcoming environment with an amazing host of activities and fundraising! Well done Charles Clark team ????" Show less

Made by a visitor in 2019

"Amazing staff and all so well looked after, willing to go above and beyond."
Made by a visitor in 2019


"Lovely friendly scheme manager, happy residents and beautiful gardens "
Made by a visitor in 2019


"Such an amazing happy place all residents are always so happy and the garden is amazing "
Made by a visitor in 2019


"A wonderful place to live"
Made by a resident in 2019


"Each resident has their own well maintained flat and the reassurance of someone available to attend them if they need help. In addition, they have a c..." Show more

"Each resident has their own well maintained flat and the reassurance of someone available to attend them if they need help. In addition, they have a chance to attend very enjoyable group activities. I am always impressed by the friendly and caring atmosphere when I visit." Show less

Made by a visitor in 2019

"Friendly, happy place , great staff "
Made by a visitor in 2019


"Such friendly people that work and live there. Beautiful garden. "
Made by a visitor in 2019


"Very well look after and clean"
Made by a visitor in 2019


"It's a lovely friendly house full of residents who enjoy living there ."
Made by a staff member in 2019


"The Staff go above and beyond, such a friendly welcoming place "
Made by a visitor in 2019


"A lovely friendly atmosphere every time I have visited the residents are so well looked after"
Made by a visitor in 2019


"Sam is amazing my mum lives here, Sam always runs events for the residents brilliant evenings. Always surpporting the residents gets every one involve..." Show more

"Sam is amazing my mum lives here, Sam always runs events for the residents brilliant evenings. Always surpporting the residents gets every one involved especially with the garden." Show less

Made by a visitor in 2019

"Very friendly staff and always a welcoming atmosphere. "
Made by a visitor in 2019


"The Warden and the management team Always there if needed. Well run, well organised Unobtrusive but there if needed, very fast"
Made by a resident in 2019


"It is friendly and extremely well run. Sam, the Scheme Manager, is really good as are the office staff. "
Made by a visitor in 2019


"Great sense of community, beautiful gardens, great Scheme Manager"
Made by a staff member in 2019


"Charles Clark House is well managed and run. I feel so lucky to have found a safe and secure home among a good mix of residents. We have opportunities..." Show more

"Charles Clark House is well managed and run. I feel so lucky to have found a safe and secure home among a good mix of residents. We have opportunities to attend functions within our "house" besides coffee mornings. We can opt in or out without feeling obliged to participate." Show less

Made by a resident in 2019

"Well kept, PRHA are ready available for any questions or problems etc"
Made by a resident in 2019


"I feel safe, companionship, the size of my flat helps to keep me independent. We get support from our Scheme Manager. Easy to keep contact with the o..." Show more

"I feel safe, companionship, the size of my flat helps to keep me independent. We get support from our Scheme Manager. Easy to keep contact with the office if we have any concerns. We have compaionship and entertainment." Show less

Made by a resident in 2019
National Housing for Older People Awards