Victoria Square
Oldham Road, Ancoats, Manchester, M4 5DX
Oldham Road, Ancoats, Manchester, M4 5DX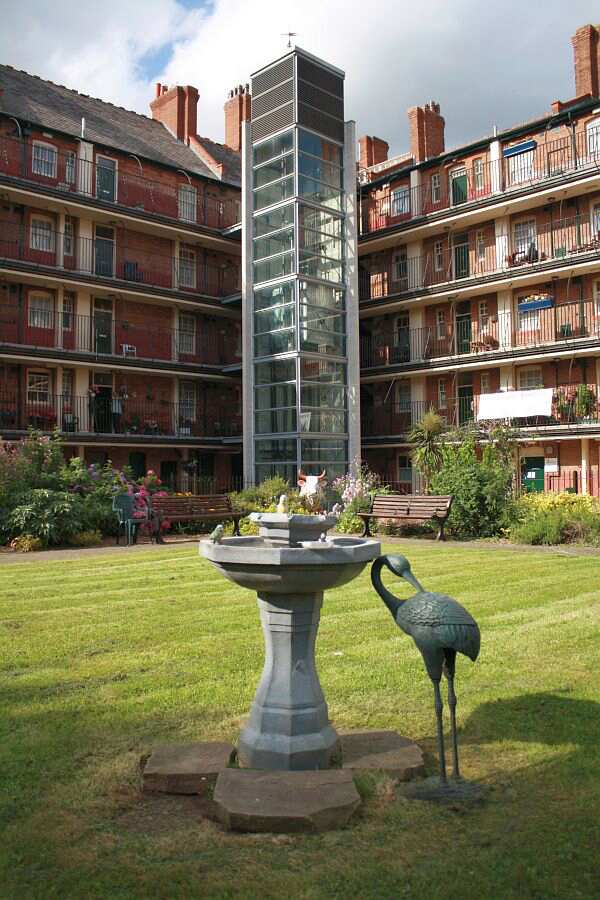 Click to enlarge or scroll
Manager's Description
"This scheme has attractive communal gardens which are a focal point of the scheme. Over the last five years approx £8 million pounds has been spent on complete home refurbishments, external works inc..." Show more
"This scheme has attractive communal gardens which are a focal point of the scheme. Over the last five years approx £8 million pounds has been spent on complete home refurbishments, external works including windows and new lifts …..also laying all the cobbled pathways. All work has been done to required conservation standards as the scheme is a grade 2 listed building." Show less
Main Facts
Retirement housing
163 flats. Built in 1894. Sizes 1 bedroom, 2 bedroom.
Non-resident management staff and Careline alarm service
Lift, Lounge, Dining room, Laundry, Garden, Community centre, Activities room
Whole site accessible by wheelchair. Access to site easy. Distances: bus stop 50 yards; shop 50 yards; post office 0.25 mile(s); town centre 0.25 mile(s); GP 0.5 mile(s); social centre 0.5 mile(s).
Regular social activities include: Yoga, knitting club, breakfast club, Tai Chi, and digital inclusion. Meal(s) available (Lunch club Monday-Friday).
Tenure(s): Rent (social landlord)
Comments made in nominations for the EAC National Housing for Older People Awards

"I work at Victoria Sq and like the fact that it is central & close to town. Also has a rich history as the first purpose built social housing"
Made by a staff member in 2019


"Living in a safe and well looked-after environment. Scheme managers very obliging and nothing too much trouble for them. Extremely happy living here."
Made by a resident in 2017


"It is comparatively quiet most of the time and our four scheme managers will willingly go our of their way to help solve tenants' problems."
Made by a resident in 2017


"The main plus is the feeling of security along with the friendliness and warmth of the scheme managers who are always available to help in any possibl..." Show more

"The main plus is the feeling of security along with the friendliness and warmth of the scheme managers who are always available to help in any possible way they can. The feeling of stable and continuous care is paramount and well met." Show less

Made by a resident in 2017

"I like living here at Victoria Square Ancoats."
Made by a resident in 2017


"I like the garden and I have good neighbours. I like my flat, it's warm. Near town as well."
Made by a resident in 2017


"Some great people. I like living in Ancoats. The scheme managers look after us and keep us well informed; very cheerful and courteous. "
Made by a resident in 2017


"Value for money. Helpful and considerate staff."
Made by a resident in 2017


"Nice place, nice flats and nice scheme manager. Lovely community."
Made by a resident in 2017


"I love being central to town and having a beautiful garden."
Made by a resident in 2017


"OK for getting into town. Very good bus service. Donna Ward always looks after us and makes you feel at home."
Made by a resident in 2017


"The scheme manager and I get on well with my neighbours. Lovely flats."
Made by a resident in 2017


"Caring and understanding staff."
Made by a resident in 2017


"Activities available; central to Manchester."
Made by a resident in 2017


"Good neighbours, friendly people, close to the city centre. Scheme managers are helpful. Love it all."
Made by a resident in 2017


"Mi niece lives locally and we are dependent on her."
Made by a resident in 2017


"My niece and her husband live close by and they help us. We are elderly and not in good health."
Made by a resident in 2017


"The location. Friendly people and staff."
Made by a resident in 2017


"Lovely sheltered accommodation; walking distance from town."
Made by a resident in 2017


"Peaceful, tranquil and relaxed atmosphere. Good neighbours. Nice wardens, friendly and helpful."
Made by a resident in 2017


"Staff excellent. Nothing too much trouble. Always helpful in daily duties, forms, etc."
Made by a resident in 2017


"Close to the city centre. Nice and friendly. Good activities. Nice and helpful scheme manager."
Made by a resident in 2017


"All the shops are nearby. Also I can just walk into town. People are friendly."
Made by a resident in 2017


"Because it is secure and close to amenities."
Made by a resident in 2017


"Good area, nice staff, great neighbours."
Made by a resident in 2017


"I feel secure in this environment. I am also reassured because of scheme managers' presence in the day."
Made by a resident in 2017


"Close to town and safe. Warden managed."
Made by a resident in 2017


"Warm homes, friendly staff"
Made by a resident in 2017


"Love the communal garden. I get involved in the activities that are always going on. I enjoy trips out and get help when needed from the scheme manage..." Show more

"Love the communal garden. I get involved in the activities that are always going on. I enjoy trips out and get help when needed from the scheme managers." Show less

Made by a resident in 2017

"I like living here with friends. It is close to town and on all major bus routes."
Made by a resident in 2017


"Feel safe; good staff who look after me."
Made by a resident in 2017


"Close to town. Nice flats. Feel safe on the site with staff"
Made by a resident in 2017


"It is well run. Nice gardens. Very good transport links, and near city centre."
Made by a resident in 2017


"It's nice and quiet. Most of residents are friendly. It's handy for shops, buses & trams. Wardens are always at hand."
Made by a resident in 2017