Broadway House
The Broadway, Sandhurst, Berkshire, GU47 9BX
The Broadway, Sandhurst, Berkshire, GU47 9BX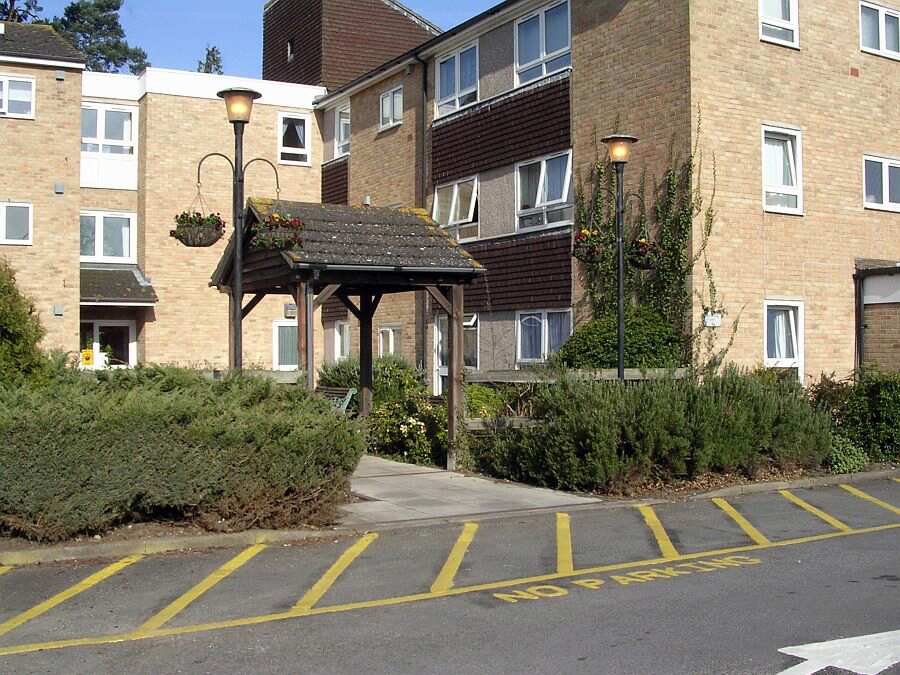 Click to enlarge or scroll
Info
Aims
Buildings
Services
Residents
Management / Costs

Manager's Description
"Broadway House is in an enviable location with all amenities on it's doorstep. We have a very popular local authority library within a few steps of our main entrance which many of our residents use ..." Show more
"Broadway House is in an enviable location with all amenities on it's doorstep. We have a very popular local authority library within a few steps of our main entrance which many of our residents use daily. The bus stop, GP surgery, post office, local shops, park, café, day centre and dentists are also on our doorstep.

We were awarded a "Sandhurst Community Award" by the town's Mayor in 2015 for providing services to the community (Tai chi ad other groups using our facilities to prevent social isolation in the wider area). We are often told that there is an instant feeling of "homeliness" when people visit us for the first time, and the warmth of their welcome is also frequently mentioned. We are now multiple winners of the EAC Housing for Older People Awards and are now the proud recipients of Bronze, Silver and Gold Awards." Show less
Main Facts
Housing-with-care
30 flats. Built in 1975 and renovated in 2019. Sizes studio, 1 bedroom, 2 bedroom. Includes mobility and wheelchair standard properties.
Enhanced Independent Living scheme with Visiting management staff (Housing support staff are on duty daily from 8.30am to 4.30pm), Non-resident management staff (7 days) and Careline alarm service
Lift, Stair lift(s), Lounge, Dining room, Laundry, Guest facilities, Garden, Hobby room, Activities room, Hairdressing salon, Assisted bathing facility, We have a large public car park at the entrance to our building and there is a public library in the c
Whole site accessible by wheelchair. Access to site easy. Distances: bus stop 25 yards; shop 50 yards; post office 50 yards; town centre 250 yards; GP 50 yards; social centre 200 yards.
Regular social activities include: Bingo 2 x weekly, Tai Chi, coffee mornings, games afternoons, and seasonal events, organised by scheme staff. Meal(s) available (lunch every day). New residents accepted from 55 years of age.
Tenure(s): Rent (social landlord)

Ethos / Lifestyle
Community interaction
The scheme is located within an existing active community
The scheme is within easy reach of an existing active community
The scheme relies on itself for community /neighbourhood interaction
Cultural
We facilitate spiritual and religious observance
Staff can speak languages other than English
Social Activities
There are regular social activities
Including: Bingo 2 x weekly, Tai Chi, coffee mornings, games afternoons, and seasonal events
Entertainment
Outings
Regular activities programme

Daily activities
Weekly activities
Monthly activities

Facilities for residents to garden or assist with gardening
Own minibus
Other transport for residents
Pets
New residents are allowed to bring pets:
a cat
a dog
If yes, pets can be replaced
Pets permitted only in ground floor flats with garden access
Statement of purpose
(the ethos and purpose of the scheme as described to a potential resident)
Our ethos is to provide a comfortable and safe home for our residents with peace of mind knowing support is available when required. We provide lunches every day of the year, and aim to create a cohesive community feel where everybodies opinion counts, andresidents feel listened to and valued. We encourage residents participation in the many activities and events that are organised by the staff team, but equally respect people's privacy if that is their wish. We actively encourage our residents to be as independent as possible to enable them to stay as active as possible in their own homes and minimise the need for hospital admissions or residential/nursing care.
Assessment of outcomes
(to help assess the quality of service and the well-being of residents)
Residents are provided with regular surveys to assist in the measuring of the service they receive. There are regular lunch surveys given to all residents to ak them if they would like anything added to or omitted from the menus.

Buildings
The buildings and the environment
Year built: 1975
Year of major remodelling: 2019
Number of stories: 3
Lift(s). Number of Lifts: 1
Stair lift(s)
The location is generally regarded as:

Desirable
Average
Not so desirable
Distances to external facilities:
Bus stop
25
yards
Local shop
50
yards
Post office
50
yards
GP surgery
50
yards
Social/day centre
200
yards
Town/shop centre
250
yards
Individual properties
30 properties
Property details:
studio/bedsits flats:
23
1-bedroom apartments:
6
2-bedroom apartments:
1
Including:
extra care or housing with care properties:
30
limited mobility properties:
30
wheelchair properties:
1
Other details:
If there are studios/bedsits

They have a kitchen
They have a wc
They have a bathroom

Some properties have a private balcony
Some properties have a private garden or patio
Properties are served by a communal satellite tv aerial
Properties are wired for cable tv
Dementia unit
Intermediate care suite or similar
Respite care accommodation with 1 property
Communal facilities Indoors
Lounge
Restaurant (open to public)
Dining room (residents only)
Community/day centre
Laundry
Guest suite
Conservatory
Activities room(s)
Hobby room(s)
More than one lounge
TV lounge
Café
Bar/pub
Fitness gym
Arts and craft centre
Storage for wheelchairs/electric scooters
Library
Shop
Treatment room
Computer/IT room
Payphone
WC's
Hairdressing salon
Jacuzzi
Pool
Assisted bathroom(s)
Other communal facilities
Communal facilities Outdoors
Garden
Total number of parking spaces: 35
Technology and design
Communal facilities are designed for sensory impairment
Wired for telecare
Telecare installed
Smart Home
CCTV
Others
Facility security features: Door entry system/electronic main door, CCTV cameras
Security features for individual properties: 24/7 emergency alarm call system, spy holes in front doors, and individual fob access
Accessibility
All communal spaces are accessible by wheelchair users
Most residents find getting to the site:

easy
manageable
difficult

Less mobile people find getting to the site:

easy
manageable
difficult

Services
Support services
Community alarm service
Provided by: Forest Care (Bracknell Forest BC)
Alarm to call on-site staff
Housing support service (SP tasks)
Domestic assistance
Light domestic cleaning
Shopping
Housework
Personal laundry service
Hairdressing on site
Chiropody
Physiotherapy
Sensors (detectors) and monitors
Personal sensors
Property-based sensors
Meals
Meals are available on a regular basis
A daily meal is available
Details: lunch every day
Breakfast always available in restaurant/dining room
Lunch always available in restaurant/dining room
Dinner always available in restaurant/dining room
Breakfast can be delivered to individual homes
Lunch can be delivered to individual homes
Dinner can be delivered to individual homes
Restaurant is open to outsiders
There is generally a choice of menu
Residents are consulted on menus
All meals are prepared on the scheme
Vegetarians are specifically catered for
Special diets can usually be provided for
We can meet cultural dietary preferences
Care services
Personal care services
Dementia care
Care for people with learning disabilities
Nursing care
Intermediate care
Respite care
Mental frailty
Physical disabilities
Behavioural problems
Terminal illness
Our scheme is best suited to care for:
People who need minimal help
People who need moderate help
People who need a high level of help

Eligibility / Admission
User profile
55 is the lower age limits for new residents
We cater for people with no/low level care needs
We are aiming at a mixed care levels population
Admission criteria are similar to residential care
Residents will not need to move except to hospital
The scheme is intended or specially suited to a specific religious, ethnic, profession or other group
The scheme is restricted to a specific group
Applicants must:
Be self-funders
Be on state benefits
Have local connections
Have a housing needs assessment
Have a community care assessment
Have a risk assessment
Have a health assessment
Have minimum housing support need
Have minimum personal care need
Have less than a maximum personal care need
For couples, both partners must:
Have minimum housing support need
Have minimum personal care need
We accept people with:
Visual impairment
Deafness
Urinary incontinence
Faecal incontinence
We would normally accept people with:
Memory problems - moderate
Memory problems - severe
Challenging behaviour - disruptive
Challenging behaviour - physically violent
Mobility problems - frame
Mobility problems - wheelchair
Mobility problems - bedfast
Wandering problems - inside home
Wandering problems - outside home

Management / costs
Management
Compared to our other schemes, this one is:

Popular
Average
Not so popular
Slow to let/sell

There is a tenants/residents association
Residents are involved in running the scheme through: Monthly residents meetings
Housing staff
Resident scheme manager
Non-resident manager
Housing staff on duty:

part time
normal hours
24 hours
7 days

Number of on-site housing staff: 3
Care staff
Site-based care staff
On-site care staff 24/7
Staff facilities
Manager's office
Care staff office
Staff overnight room with en-suite
Staff rest room with kitchenette
Staff locker and changing room
Main catering kitchen
Costs
Average new let rents excluding all charges:
Studio
£83.72
per week
1 bedroom
£98.16
per week
2 bedroom
£117.09
per week
Rents updated: 01/01/1970
Service and support charges are about: £23.64 per week
Prices updated: 01/01/1970
Info updated: 05/08/2019
If you are the manager of Broadway House and want to update your information, please
click here
.
Residents' views
A number of residents have used EAC's resident consultation card game to give their views on aspects of where they live. They gave top marks to this scheme for:
Activities and outings
Care services
Community spirit
Consultation
Convenience of the location
Lifestyle
Link with community at large
Meals
Number / size of facilities
Overall ratings
Practicality of the individual apartments
Privacy
Quality of design
Quality of the building and facilities
Quality of the facilities
Quality of the garden
Quality of the individual apartments
Safety and security
Space standards of individual apartments
Staff role and interaction
Comments made in nominations for the EAC National Housing for Older People Awards

"It's fantastic. All residents love it here. They are happy and well looked after by the awesome staff."
Made by a staff member in 2019


"The house has great facilities and the individual flats are just right for residents to be able to maintain independence whilst still having support w..." Show more

"The house has great facilities and the individual flats are just right for residents to be able to maintain independence whilst still having support when needed. Most of all, the staff are magnificent; they are caring and always ready to help residents enjoy life!" Show less

Made by a visitor in 2019
National Housing for Older People Awards