St Andrews House
Digby Avenue, Mapperley, Nottingham, NG3 6EA
Digby Avenue, Mapperley, Nottingham, NG3 6EA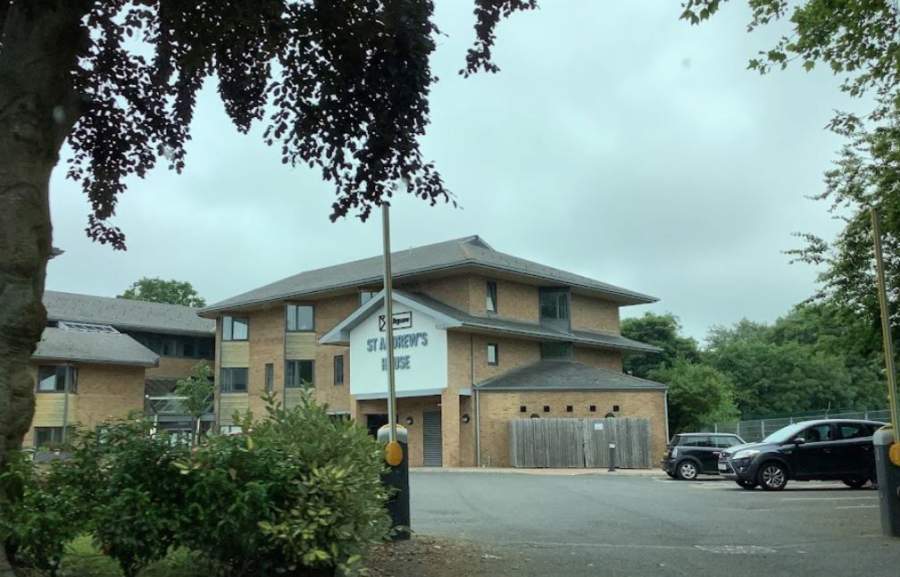 Click to enlarge or scroll
Main Facts
Extra care housing
Tenure(s): Rent (social landlord)
Care provider: Human Support Group
32 flats. Built in 1988 and renovated in 2015. Sizes 1 bedroom, 2 bedroom. Includes mobility and wheelchair standard properties.
Extra Care scheme with on-site care staff, Non-resident management staff and Careline alarm service
Lift, Lounge, Dining room, Laundry, Guest facilities, Garden, Conservatory, Hairdressing salon
Whole site accessible by wheelchair. Access to site easy. Distances: bus stop 50 yards; shop 50 yards; post office 1 mile(s); town centre 1 mile(s); GP 60 yards; social centre 1.5 mile(s).
Regular Social activities include: Bingo, coffee mornings, social nights, afternoon tea. Meal(s) available. New residents accepted from 55 years of age.
Housing Authority: Gedling
Social Care Authority: Nottinghamshire
Info updated: 09/04/2018
If you are the manager of St Andrews House and want to update your information, please
click here
.
Availability
Many council and housing association lettings in this area are made through a 'Choice Based Lettings' system called Homesearch. See how to register and then bid for properties at:
https://www.home-search-gedling.org.uk/
Comments made in nominations for the EAC National Housing for Older People Awards

"Very large Apartment.,lovely view.Dinners cooked on premises.,different menu every 4 weeks. Some afternoon activities
for all Tenants to partake in ..." Show more

"Very large Apartment.,lovely view.Dinners cooked on premises.,different menu every 4 weeks. Some afternoon activities
for all Tenants to partake in .
Nothing to do in evenings." Show less

Made by a resident in 2019

"St Andrews is a wonderful place. Residents feel secure and it gives them a more quality of life. They have round the clock support and always a helpin..." Show more

"St Andrews is a wonderful place. Residents feel secure and it gives them a more quality of life. They have round the clock support and always a helping hand when things may get complicated. " Show less

Made by a staff member in 2019

"I am home. Good staff. I would never live anywhere else."
Made by a resident in 2017


"I was having falls in my old home, and struggling to cope. My daughter lives nearby. It is a beautiful place and I enjoy being here."
Made by a resident in 2017


"I live in a fantastic apartment. The view from my lounge is of the Country Park, which is outstanding. The staff are excellent, always there when I ne..." Show more

"I live in a fantastic apartment. The view from my lounge is of the Country Park, which is outstanding. The staff are excellent, always there when I need them." Show less

Made by a resident in 2017

"I find St Andrews a great place. I find that the staff are very helpful. The facilities are excellent. I enjoy socialising when I am able."
Made by a resident in 2017


"I like living here because it is a lovely complex. My flat is very nice and the staff is excellent. Very helpful."
Made by a resident in 2017


"I find the staff here helpful and friendly. The flat is a decent size. I feel safe here. A hot midday meal is very helpful."
Made by a resident in 2017


"I like my apartment. I enjoy socialising with the other residents. I have a bathroom off my bedroom. This helps me to remain independent."
Made by a resident in 2017


"The staff are so helpful. The environment is exceptional. Life is as good as it can be."
Made by a resident in 2017


"I like having the extra care available 24 /7 and having lunch cooked for us."
Made by a resident in 2017


"St Andrews is a very nice place to live. I feel safe. The scheme has a lovely atmosphere. I am happy to be with other residents. The staff are always ..." Show more

"St Andrews is a very nice place to live. I feel safe. The scheme has a lovely atmosphere. I am happy to be with other residents. The staff are always helpful." Show less

Made by a resident in 2017

"I like the flat and most of the residents. I like the view I have got and most of the staff."
Made by a resident in 2017


"Lovely flat. Everybody seems well and happy and it is very pleasant here."
Made by a resident in 2017


"I am happy here. The staff are very friendly. I like the activities."
Made by a resident in 2017


"I like living here because everyone is so friendly. Different to where I was before."
Made by a resident in 2017


"I like it because it's nice and quiet. I can come and go as I please. The building is very nice."
Made by a resident in 2017


"Pleasant building; comfortable flat. Good meals. It is very clean and tidy. The staff are friendly and helpful."
Made by a resident in 2017


"It is a very nice place to live. Staff are very obliging and it is nice to have people to mix with and talk to. Altogether very good."
Made by a resident in 2017


"The food is good. The company is pleasant. All I need and one roof."
Made by a resident in 2017


"The carers and Gedling Homes staff are very helpful. The apartment is very nice."
Made by a resident in 2017


"It's comfortable and friendly."
Made by a resident in 2017


"I need help with medication, shopping, cleaning... and the staff are really friendly and helpful."
Made by a resident in 2017


"24/7 care available. I feel safe and warm. Good activities arranged. I have made new friends and the meals provided are great and the accommodation is..." Show more

"24/7 care available. I feel safe and warm. Good activities arranged. I have made new friends and the meals provided are great and the accommodation is good quality." Show less

Made by a resident in 2017

"Warm, friendly and secure."
Made by a resident in 2017


"It is a beautiful place. Like being in a four star hotel. My mother lived in over a Year ago. The thought behind decor etc is fantastic. Views over a ..." Show more

"It is a beautiful place. Like being in a four star hotel. My mother lived in over a Year ago. The thought behind decor etc is fantastic. Views over a park at the back fabulous roomy apartments. Staff are so thoughtful. They really do deserve to win this. " Show less

Made by a visitor in 2017

"The building is fantastic with all adaptations required for vulnerable frail elderly people who live here. The residents are very happy and enjoy the..." Show more

"The building is fantastic with all adaptations required for vulnerable frail elderly people who live here. The residents are very happy and enjoy the events and activities that are arranged for them. The outlook is lovely and the gardens kept great." Show less

Made by a staff member in 2017

"St Andrews House was designed specifically for older people with mobility and dementia issues. The building is bright spacious and has a friendly at..." Show more

"St Andrews House was designed specifically for older people with mobility and dementia issues. The building is bright spacious and has a friendly atmosphere. It provides a fabulous and professional service 7 days per week including a midday meal and benefits from an onsite care provider." Show less

Made by a staff member in 2017